About Iron Creations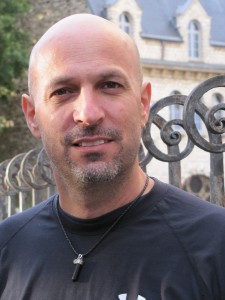 Gonen Liberman is native of Israel. He has moved to the United States in 1999 and opened Iron Creations USA LTD. Gonen serves as the President of the company and has gained vast experience in designing and producing artistic and custom made iron products such as gates, railings, fences and furniture in the Milwaukee, Chicago area.
Prior to coming to the United States, Gonen Liberman worked in a family owned business where he developed his love for the wrought iron products and enhanced his skills in this area. He specializes in designing the products that is to be manufactured and enjoys seeing these products come full circle from the initial rough sketch to the final masterpiece that is installed in private homes, restaurants, and hotels, as well as other private and public properties. In the past twenty five years, Liberman has worked with a large array of designers, contractors, builders, and architects. In search for continuous learning, Liberman and his team strive to perfect their skills and expand their knowledge in the work created by using different metals and finishes. It is extraordinary to witness the talented wrought iron masters that work at Iron Creations and their ability to replicate both old and new items. Customers often come to Gonen Liberman and request to duplicate a design or create an authentic replica of an old product that already exists in their home.
One of Gonen's true passions is to see the reactions of customers when they first observe the final product and their amazement in witnessing the design materialize and come to life. By working closely with each customer, Liberman feels that the engagement level of customers reaches new peaks, as well as provides them the opportunity to put their own personal touch on the design of the product. This makes each project truly unique and meaningful.